Product of the Month August
Gelrite® - SERVABACTER® - Agar Agar
Gelrite®
Gelrite® consists of a highly purified, natural heteropolysaccharide. In the presence of soluble salts, it forms rigid and very clear gels at approximately half the use level of agar.
Features:
Consistent product quality
Forming of clear gels
Fast gelling process
Stable at high temperatures
Suitable for a wide variety of microorganisms
No toxic contaminations, e.g. phenolic compounds

Resistant to enzymatic degradation
Chemically inert to most growth media additives
Same shelf life as agar gels
---
Yeast extract SERVABACTER® and

Agar Agar SERVA High Gel Strength
Yeast extract SERVABACTER®
Cat. No. 24540
Rich in growth factors and B vitamins
Convenient standard material for culture media
Tested for use in tissue cuture
Agar Agar SERVA High Gel Strength
Cat. No. 11396
Choice quality for in vitro culture of plants or bacteriology
No turbidity with phosphates
Please find further products for Plant- and Microbiology here.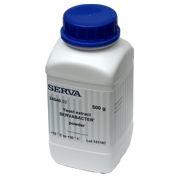 ---
Special Prices
(Valid until August 31st, 2019)
Product

Cat. No.

Size


Price

Special Price

Gelrite®


22168.01

22168.02

250 g
1 kg

104,00 €

396,00 €

83,20 €


316,80 €

Yeast extract SERVABACTER®

24540.02

24540.03

500 g
5 kg

47,00 €
252,00 €

37,60 €


201,60 €

Agar Agar SERVA High Gel-Strength

11396.03
11396.04

1 kg
5 kg

159,00 €
612,00 €

127,20 €


489,60 €