The mostly used electrophoresis method for protein separation and analysis is the SDS polyacrylamide gel electrophoresis (SDS PAGE). The sample and the running buffer contain the detergent sodium dodecylsulfate (SDS).

The proteins and the SDS form micelles which migration speed in the gel matrix is relative to the molecular weight of the proteins. Due to this, the SDS PAGE allows separation of proteins according to the molecular weight.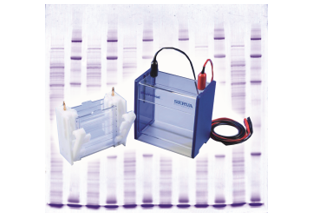 Furthermore, all proteins have a negative net charge and migrate towards the anode (+). The proteins are separated in a polyacrylamide gel matrix.

The separation performance and resolution of the gel can be varied by the acrylamide concentration and the running buffer.

After separation, the protein bands are detected by staining either with colorimetric (Coomassie®, silver) or fluorescent dyes.