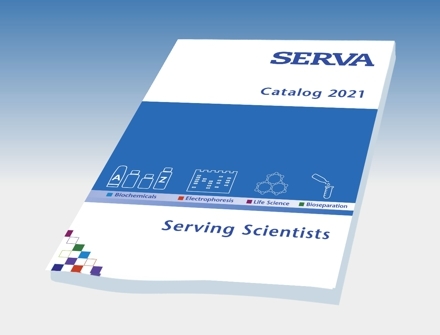 New - SERVA Catalog 2021!
We have revised our product portfolio in parts and included new, innovative products for you in the programme. In particular, new enzymes such as dsDNase and Zymolase, horizontal 2D gels for direct use in 2D Western blots.
With the SERVA BlueStain, we have launched an innovative automated machine to support you in staining gels, now also available as Pharma Edition.
Our intention is to constantly expand our portfolio for your research needs - here are some current examples:
New enzymes like dsDNase for highly specific degradation of doubled-stranded DNA
Zymolyase® to produce yeast protoplast or spheroplast
Tergitol™ as an alternative to Triton X-100
Easy Peel 2D HPE™ gels for blotting of horizontal 2D gels
New protein standards, e.g. SERVA Unstained Protein Standard 6.5 - 97 kDa
BlueVertical™ PRiME™ Blot Modul for SERVA's BV-104 electrophoresis tank
IPG tray with electrode lid for 1st dimension protein separation on 7 cm to 24 cm IPG strips
Special Pharma Edition of SERVA BlueStain automated gel staining device
Download our new catalog here: