Hands-On Proteomics Workshop: TU Wien, 14 - 17 April 2020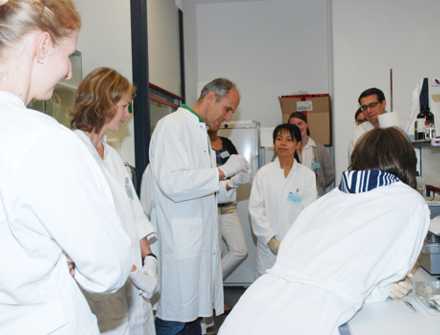 2D electrophoresis in combination with mass spectrometry - efficiency and reliability through innovative technologies
The workshop includes the hands-on course (practice and theory), lectures on the latest developments for proteomics research, as well as the clarification of questions by our team of experts:
High Performance Electrophoresis (HPE)
The new dimension in 2D gel electrophoresis (by SERVA Electrophoresis)
Image Analysis with Delta2D - Expression profiles of 2D gel images and 2D Western blots (by DECODON)
Strategies for protein identification - from ingel digestion to protein identification (by BRUKER)
Learn more in our 4-day workshop about
efficient sample preparation
innovative sample labeling
horizontal and vertical gel electrophoresis
fast and reliable analysis of gel images
protein identification with highly sensitive mass spectrometry and
further solutions for e.g. 2D Western Blots (incl. HCP Coverage), 2D DIBE and data visualization
Further information such as participation fees and program can be found in the workshop flyer (PDF) or send us an e-mail to info@serva.de. The course is limited to 10 participants and there are only a few places left. Don't miss the cheaper Early Bird rate until 01 March 2020, either register on the TU Vienna website or download the Registration Form.
We are looking forward to welcoming you in Vienna!