Ureaanalytical grade, Ph. Eur., USP
(Carbamide, Carbonyl diamide)
CH4N2O
•
Mr 60.06
•
CAS [57-13-6
]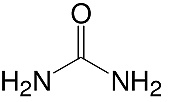 A chaotropic agent used for the denaturation of proteins and as a mild solubilization agent for insoluble or denatured proteins. May be used with guanidine hydrochloride and dithiothreitrol (DTT) in the refolding of denatured proteins into their native or active form.
In denaturing isoelectric focusing and 2D-electrophoresisused utilized to solubilize and denature proteins.
Suitable for pharmaceutical research
Assay (from N)
Heavy metals (Pb)

99.0 - 100.5 %
< 10 ppm

EINECS: 200-315-5
•
WGK: 1L
•
HS: 29241900
Storage Temperature: +15 °C to +30 °C
*Please use the inquiry form in the right column.
Material Safety Datasheets