Carbenicillin·Na2-saltresearch grade
(Carboxybenzylpenicillin·disodium salt)
C17H16N2O6S·Na2
•
Mr 422.37
•
CAS [4800-94-6
]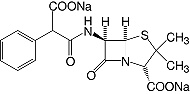 Semisynthetic derivative of benzylpenicillin G. Inhibitor of bacterial cell wall synthesis. Active above all against gram negative bacteria, less against gram positive. Used in molecular biology for selection of resistant strains (2). In plant cell culture often in combination with streptomycin or nystatin to prevent bacterial contamination (3,4). Effect on somatic embryo genesis (5).
References:
Butler et al. (1970) J. Infec. Dis. 122, Suppl. 81
Sambrook, J. et al. (2001) A Laboratory Manual, 3rd ed., Cold Spring Harbor, NY
Horsch, R.B. a. King, J. (1983) Plant Cell Tiss. Organ Cult. 2, 21-8
Watts, J.W. a. King, J.M. (1973) Planta 113, 271-7
Sarma, K.S. Et al. (1995) . J. Exp. Bot. 46, 1779-81
EINECS: 225-360-8
•
WGK: 1
•
HS: 29411000
Storage Temperature: +2 °C to +8 °C
*Please use the inquiry form in the right column.

Certificates of Analysis (Lot.-no. - release date)
Material Safety Datasheets