Actinomycin Dcryst. research grade
(Dactinomycin, Actinomycin C1)
C62H86N12O16
•
Mr 1255.5
•
CAS [50-76-0
]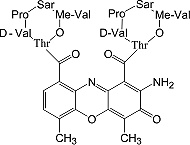 Chromopeptide with antibiotic activity. Contains 2 cyclic peptides bound to the chromophoric phenoxazone ring. Binds specifically to the minor groove of the DNA double helix, and thus prevents it from being a template for RNA synthesis. Antineoplastic agent which inhibits the growth of rapidly dividing cells. Induces apoptosis in cancer cells. Used as a selective agent in cell culture.
References:
Meienhofer, B. & Atherton, E. (1977) Adv. Appl. Microbiol. 16, 203
Kleef, J. et al. (2000) Int. J. Cancer 86, 399-407
Narita, Y. et al. (2000) Cancer Chemother. Pharmacol. 45, 149-56
Carc. 2, Repr. 1A
•
GGVSE/ADR: 6.1 II UN2811
•
IATA: 6.1 II UN2811
•
EINECS: 200-063-6
•
WGK: 3L
•
HS: 29419000
Storage Temperature: +2 °C to +8 °C
*Please use the inquiry form in the right column.
Certificates of Analysis (Lot.-no. - release date)
Material Safety Datasheets