(Epoxysuccinyl-L-leucylamido-(4-guanidino)butane, Expoxy[L-3-trans-carboxy oxiran-2-carbonyl]-L-Leu-Agmatin)
C15H27N505
•
Mr 357.4
•
CAS [66701-25-5
]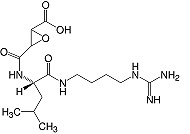 E-64 is an irreversible and highly selective cysteine (thiol) protease inhibitor during isolation and purification of proteins and enzymes. It inhibits calpain activation.
The inhibition of thiol proteases by E-64 appears to be of a non-competitive nature between the SH components.The trans-epoxysuccinyl group (active moiety) of E-64 irreversibly binds to an active thiol group in many cysteine proteases, such as papain, actinidase, and cathepsins B, H, and L to form a thioether linkage. E-64 does not inhibit serine proteases (except trypsin) like other cysteine protease inhibitors. It does not react with the functional thiol group of non-protease enzymes. E-64 can be used as a ligand for affinity purification of cysteine proteases. Although binding of the inhibitor is no longer irreversible, the specificity is retained. Effects on metastasis formation in mice (5).
Stock solution: 1 mM aqueous solution
Working solution: 1 to10 μM
Aqueous stock solutions are stable for months at -20 °C. Diluted solutions are stable for days at neutral pH.
E-64 is also soluble in DMSO, a 10 mM solution can be prepared in dry DMSO and stored at -20 °C. Dilutions can be made in culture medium or in 0.9 % sodium chloride for injection.
References:
Hanada, K. et al. (1978) Agric. Biol. Chem. 42, 523, 529
Varughese, K.J. et al. (1989) Biochemistry 28, 1330-2
Nakao, H. et al. (1989) Int. J. Biochem. 21, 139-42
Jani, J.P. et al. (1992) Oncol. Res. 4, 59-63
Leto, G. et al. (1994) In Vivo 8, 231-6
HS: 29241900
Storage Temperature: -15 °C to -25 °C
*Please use the inquiry form in the right column.
Certificates of Analysis (Lot.-no. - release date)
Material Safety Datasheets