Gentamycin sulfateresearch grade, Ph. Eur.
(Gentamicin sulfate)
CAS [1405-41-0
]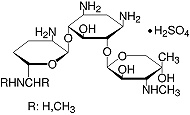 Min. 590 U/mg gentamycin base/g.
Aminoglycoside antibiotic complex from
Micromonospora purpurea.
Consists of closely related compounds: gentamycin C
1
, C
1a
, C
2
, C
2a
and C
2b
. Inhibits bacterial protein synthesis by binding to the ribosomal 30S subunit and causing misreading of mRNA (in a similar way as streptomycin).
Broad spectrum antibiotic which inhibits growth of many gram positive and gram negative bacteria including strains which are resistant to chloramphenicol, kanamycin or tetracycline. Frequently used in cell culture, often in combination with amphotericin B, nystatin or penicillin G (1,3).
References:
Watts, J.W. & King, J.M. (1973) Planta 113, 271-7
Cox, D. et al. (1977) in: Sammes, P.G. (ed.) Topics in antibiotics chemistry Vol. I Chichester: Horwood, pp. 1-90
Eichholtz, D.A. et al. (1979) Plant Physiol. 63, Abstr. 753
Lancini, G. & Parenti, F. (1982) Antibiotics; Springer, New York
Nakamura, T. et al. (1991) J. Biol. Chem. 266, 19432-7
Stubbs, A.C. et al. (2001) Nature Medicine 7, 625-9
Manevich, Y. et al. (2002) PNAS 99, 11599-604
Richard, J.P. et al. (2005) J. Biol. Chem. 280, 15300-6
EINECS: 215-778-9
•
WGK: 1
•
HS: 29419000
Storage Temperature: +15 °C to +30 °C
*Please use the inquiry form in the right column.
Material Safety Datasheets