L-Glutathione (oxidized form)cryst. research grade
(GSSG)
C20H32N6O12S2
•
Mr 612.64
•
CAS [27025-41-8
]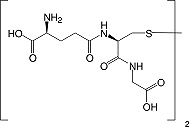 L-Glutathione oxidized (GSSG) is the dimeric form of glutathione (GSH). In vivo GSSG is reduced by the NADPH-dependent enzyme glutathione reductase. The ratio of GSH to GSSG is often used to measure the level of oxidative stress in cells, with higher concentrations of GSSG implying more oxidative stress.
Assay (HPLC)
[α] 20 °C/D (c=4 % in water)

min. 98.0 %
-106.0 ° to - 96.0 °

References:
Review: Meister, A. & Anderson, M.E. (1983) Ann. Rev. Biochem. 52, 711-60
EINECS: 248-170-7
•
WGK: 1
•
HS: 29309098
Storage Temperature: +2 °C to +8 °C
*Please use the inquiry form in the right column.
Certificates of Analysis (Lot.-no. - release date)
Material Safety Datasheets