Polymyxin-B·sulfateresearch grade, Ph. Eur.
(Aerosporin)
CAS [1405-20-5
]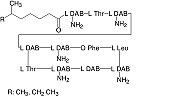 Mixture of the sulfates of polypeptides produced by the growth of certain strains of
Bacillus polymyxa
, the main component being Polymyxin B1.
Assay (HPLC): sum of Polymyxins B1, B2, B3 and B1-I min. 80 %; Polymyxin B3 max. 6 %; Polymyxin B1-I max. 15 %
Peptide antibiotic that mainly acts against gram negative bacteria. Causes changes in membrane structure resulting in leakage of small molecules. Used in cell culture media against the contamination of bacteria or in other media for suppression of pathogenic germs (2,3). Inhibitor of the mitogenic response to lipopolysaccharide (4).
References:
Storm, D.R. et al. (1977) Ann. Rev. Biochem. 46, 723-63
Kwak, B. et al. (2000) Nature Medicine 6, 1399-1402
Alvarez-Dolado, M. et al. (2003) Nature 425, 968-73
Jacobs, D.M. & Morrison, D.C. (1977) J. Immunol. 118, 21-7
Asea, A. et al. (2000) Nature Medicine 6, 435-42
HS: 38210000
Storage Temperature: +2 °C to +8 °C
*Please use the inquiry form in the right column.
Material Safety Datasheets