Resazurin·Na-saltanalytical grade
(Diazoresorcinol)
C12H6NO4·Na
•
Mr 251.2
•
CAS [62758-13-8
]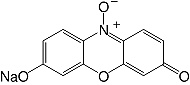 Resazurin is a blue non-fluorescent dye used as a redox indicator in cell viability and proliferation assays for bacteria, yeast or mammalian cells. In viable cells the blue form of the dye is irreversibly reduced by enzymes to the highly red-fluorescent product resorufin (excitation: 530 - 540 nm; emission: 585 - 595 nm), which can be detected by flow cytometry, fluorescence microscopy, and high-throughput screening methods. Resazurin is minimally toxic to living cells, making it suitable for use in long-term cell culture.
EINECS: 263-718-5
•
HS: 29349990
Storage Temperature: +15 °C to +30 °C
*Please use the inquiry form in the right column.
Certificates of Analysis (Lot.-no. - release date)
Material Safety Datasheets