5-Bromo-4-chloro-3-indolyl-phosphate·p-toluidine-saltresearch grade
(BCIP)
C8H6NO4BrClP·C7H9N or C15H15BrClN2O4P
•
Mr 433.6
•
CAS [6578-06-9
]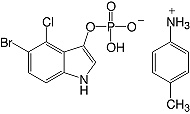 5-bromo-4-chloro-3-indolyl phosphate (BCIP) is a histochemical substrate for phosphatase. BCIP is used in conjunction with Nitro Blue Tetrazolium (NBT, cat. no. 30550) for the colorimetric detection of alkaline phosphatase-labelled molecules in Northern, Southern, and Western blotting,
in situ
hybridization, and immunohistochemistry. When incubated with alkaline phosphatase the BCIP/NBT substrate produces an insoluble, purple coloured NBT diformazan precipitate that is easily detected on membranes or tissue sections.
BCIP p-toluidine salt and NBT should be solved in dimethylformamide for preparation of a stock solution.
Stock solution:
50 mg/ml in 100 % DMF. Store at 4 °C or -20 °C.
Staining solution for western blots:
66 µl NBT stock solution and 33 µl BCIP stock solution in 10 ml staining buffer (100 mM NaCl, 5 mM MgCl
2
, 100 mM Tris; pH 9.5).
For added convenience ready-to-use BCIP/NBT solutions are provided: SERVAColor BCIP/NBT Blot Solution, cat. no. 15245 and BCIP/NBT Ready-To-Use Substrate for Immunohistochemistry and Blotting, cat. no. 15246.
References:
Wolf, P.L. et al. (1973) Clin. Chem. 19, 1248-9
EINECS: 229-506-1
•
HS: 29339980
Storage Temperature: -15 °C to -25 °C